Your questions and comments would be appreciated. Contact us at Webmaster@flamingrose.org.
---
In the December issue of the Flaming Rose Journal, We anticipate the coming of Winter with the Solstice. The passing of Autumn now Culminates in the Shortest Day of the Year. From this Point in Time of Diminishment and Ending, the Light begins to Rise and Shine with Progressively Longer Days. The Life within the Dormant Seed Waits inside the Winter Earth to Germinate, Grow and Bud into a New Personal Transformation of Consciousness a New Personal Potential of Peace, Harmony and Love Related to the Ever Brightening Sun and the Urgent Creative Spirit of Spring
---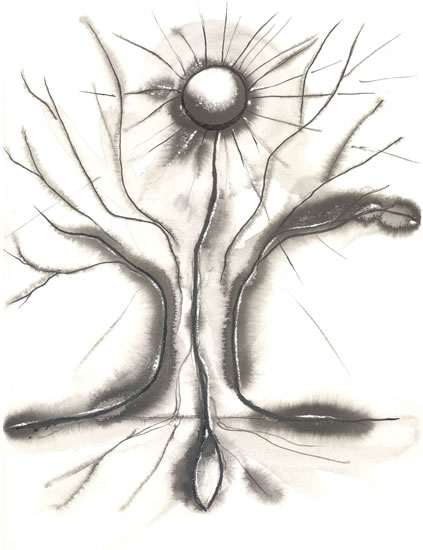 during the Winter the Great Tree of Life Perpetually Exists as the Potential Fulfilment of the Spirit within the Dormant Seed that Urgently needs to Arise out of the Fertile Earth into the Radiant Sunlight of Spring Art and poem by Joe Kirkwood
---
This month we have eignteen songs from the album
"The Pioneers of the New Age"
by Joe Kirkwood.
The Pioneers of the New Age
,
The Eternal Witnesses of Life
,
The Visionmakers
,
Join Our Lives in Love
,
Fearlessly Live and Love
,
Faith in the Heart and Love
,
Love Always Remains
,
The Ever Loving Heart
,
In Harmony with the Heart
,
From Our Heart We Live
,
In Relation to the Great Divinity
,
In Reverence to the Great Spirit of Life
,
In Relation to the Wholly Sacred One
,
The Sacred Circle of Life
,
The Sacred Tree of Life
,
The Seasons of Life
,
One with Life
,
The Great Song of Life
The Pioneers of the New Age
the Journey begins again Today We depart with the Sunrise the Spirit beckons us forever onward towards a New Way of Life We are the Explorers the Pioneers of the New Day We are the Explorers the Pioneers of the New Age the Journey begins again Today We leave the past behind the Spirit beckons us forever onward towards the Far Horizon Line We are the Explorers the Pioneers of the New Day We are the Explorers the Pioneers of the New Age the Journey begins again Today We are ready to face all adversity the Spirit beckons us forever onward increasing our Courage and Strength We are the Explorers the Pioneers of the New Day We are the Explorers the Pioneers of the New Age the Journey begins again Today We follow our Heart's True love the Spirit beckons us forever onward towards our True Life Fulfilment We are the Explorers the Pioneers of the New Day We are the Explorers the Pioneers of the New Age the Journey begins again Today We start a Whole New Life Creation the Spirit beckons us forever onward towards a Whole New Conscious Transformation We are the Explorers the Pioneers of the New Day We are the Explorers the Pioneers of the New Age the Journey always begins again Today the Journey always begins again Today We are the Explorers the Pioneers of the New Day We are the Explorers the Pioneers of the New Age the Pioneers of the New Age the Pioneers of the New Age the Pioneers of the New Age ~
The Eternal Witnesses of Life
We are the Witnesses We are the Watchers of History and Time We are the Witnesses We wait and patiently Abide Keeping the Sacred Traditions of Life Keeping the Sacred Traditions of Life We are the Witnesses We are the Watchers of Nature and Time We are the Witnesses We wait and patiently Abide Preserving the Whole Creation of Life Preserving the Whole Creation of Life We are the Witnesses We are the Watchers of Conflict and Time We are the Witnesses We wait and patiently Abide Sustaining the Loving Harmony of Life Sustaining the Loving Harmony of Life We are the Witnesses We are the Watchers of Thought and Time We are the Witnesses We wait and patiently Abide Increasing the Conscious Freedom of Life Increasing the Conscious Freedom of Life We are the Witnesses We are the Watchers of Children and Time We are the Witnesses We wait and patiently Abide Supporting the Future Generations of Life Supporting the Future Generations of Life We are Witnesses We are the Watchers of the World and Time We are the Witnesses We wait and patiently Abide Forever affirming the Universal Spirit of Life Forever affirming the Universal Spirit of Life We are the Witnesses the Eternal Witnesses of Life We are the Witnesses the Eternal Witnesses of Life the Eternal Witnesses of Life the Eternal Witnesses of Life the Eternal Witnesses of Life ~
The Visionmakers
We are the Visionmakers We conceive of the New World to come We are the Visionmakers We create the New World to come Cherishing the Earth and the Seed Cherishing the Flower and the Tree Cherishing Every Living Being Cherishing Every Living Thing We are the Visionmakers We conceive of the New World to come We are the Visionmakers We create the New World to come Cherishing the Air and the Wind Cherishing the Water and the Stream Cherishing the Cloud and the Sky Cherishing the River and the Sea We are the Visionmakers We conceive of the New World to come We are the Visionmakers We create the New World to come Cherishing the Fire and the Flame Cherishing the Rock and the Stone Cherishing the Heart and the Soul Cherishing the Flesh and the Bone We are the Visionmakers We conceive of the New World to come We are the Visionmakers We create the New World to come Cherishing the Lives of the Elders Cherishing the Ancient Ancestry Cherishing the Lives of the Children Cherishing the Home and Family We are the Visionmakers We conceive of the New World to come We are the Visionmakers We create the New World to come Relating Every Country and Nation Relating Every Town and Place Relating Every Person and People Relating Every Culture and Race We are the Visionmakers We conceive of the New World to come We are the Visionmakers We create the New World to come Preserving the Beauty and Balance of Life and Nature Preserving the Joy and Freedom of Harmony and Peace Preserving the Consciousness of the Living Universe Preserving the Perception of Life's Total Unity We are the Visionmakers We conceive of the New World to come We are the Visionmakers We create the New World to come Sustaining the Sun's Sacred Light Sustaining the Sacred Bond of Love Sustaining the Wholly Sacred Spirit Sustaining the Wholly Sacred One We are the Visionmakers We conceive of the New World to come We are the Visionmakers We create the New World to come We are the Visionmakers We are the Visionmakers We are the Visionmakers We are the Visionmakers the Visionmakers the Visionmakers the Visionmakers the Visionmakers ~
Join Our Lives in Love
We gather together Now in the Light of the New Rising Sun We gather together Now in the Sight of the New Day to Come and We open our Hearts to the Many and the One We open our Hearts and Join our Lives in Love Join our Lives in Love We gather together Now at this Beautiful Place on Earth We gather together Now to heal our old Wounds and Hurt and We open our Hearts to the Many and the One We open our Hearts and Join our Lives in Love Join our Lives in Love We gather together Now in Growing Purpose and Strength We gather together Now in Growing Freedom and Release and We open our Hearts to the Many and the One We open our Hearts and Join our Lives in Love Join our Lives in Love We gather together Now in Complete Living Diversity We gather together Now in Joyous Peace and Unity and We open our Hearts to the Many and the One We open our Hearts and Join our Lives in Love Join our Lives in Love We gather together Now in the Spirit of the New Rising Sun We gather together Now in the Conscious Creation of the New World to Come and We open our Hearts to the Many and the One We open our Hearts and Join our Lives in Love Join our Lives in Love Join our Lives in Love Join our Lives in Love Join our Lives in Love ~
Fearlessly Live and Love
overcoming the fear of the unknown we will arise overcoming the fear of the unknown with the courage of life we will fearlessly live and love we will fearlessly live and love overcoming the fear of darkness we will arise overcoming the fear of darkness with the courage of life we will fearlessly live and love we will fearlessly live and love overcoming the fear of change we will arise overcoming the fear of change with the courage of life we will fearlessly live and love we will fearlessly live and love overcoming the fear of resistance we will arise overcoming the fear of resistance with the courage of life we will fearlessly live and love we will fearlessly live and love overcoming the fear of failure we will arise overcoming the fear of failure with the courage of life we will fearlessly live and love we will fearlessly live and love overcoming the fear of suffering we will arise overcoming the fear of suffering with the courage of life we will fearlessly live and love we will fearlessly live and love overcoming the fear of death we will arise overcoming the fear of death with the courage of life we will fearlessly live and love we will fearlessly live and love overcoming the fear of the future we will arise overcoming the fear of the future with the courage of life we will fearlessly live and love we will fearlessly live and love fearlessly live and love fearlessly live and love fearlessly live and love fearlessly live and love ~
Faith in the Heart and Love
darkness always comes obscuring the love and light of life darkness always comes bringing the doubts and fears of mind but from day to day we face whatever comes we keep our faith in the heart we keep our faith in love until light returns sorrow always comes obscuring the love and joy of life sorrow always comes bringing the doubts and fears of mind but from day to day we face whatever comes we keep our faith in the heart we keep our faith in love until joy returns conflict always comes obscuring the love and peace of life conflict always comes bringing the doubts and fears of mind but from day to day we face whatever comes we keep faith in the heart we keep faith in love until peace returns despair always comes obscuring the love and hope of life despair always comes bringing the doubts and fears of mind bur from day to day we face whatever comes we keep faith in the heart we keep faith in love until hope returns destruction always comes obscuring the love and creation of life destruction always comes bringing the doubts and fears of mind but from day to day we face whatever comes we keep faith in the heart we keep faith in love until creation returns we keep faith in the heart and love we keep faith in the heart and love faith in the heart and love faith in the heart and love faith in the heart and love faith in the heart and love ~
Love Always Remains
Love arose with the Sun Love became the Shining Light Love awakened the Conscious Vision Love contained the Impulse of Life Down through the Ages Love is always sustained Down through the Ages Love always Remains Love always Remains Love nurtured the Fertile Earth Love sowed the Living Seed Love conserved the Living Harvest Love preserved the Living Tree Down through the Ages Love is always Sustained Down through the Ages Love always Remains Love always Remains Love conceived the Children and Family Love built an Enduring Home Love lifted Heavy Roofing Timbers Love layed Strong Foundation Stones Down through the Ages Love is always Sustained Down through the Ages Love always Remains Love always Remains Love faced the Greatest Challenge Love bore the Heaviest Weight Love survived the Most Terrible Storm Love kept the Living Faith Down through the Ages Love is always Sustained Down through the Ages Love always Remains Love always Remains Love held the Sacred Knowlege Love bestowed the Sacred Teaching Love spoke the Sacred Word Love revealed the Sacred Meaning Down through the Ages Love is always Sustained Down through the Ages Love always Remains Love always Remains Love joined All Living Beings Love related All Living Things Love opened the Whole Human Heart Love created Total Harmony and Peace Down through the Ages Love is always Sustained Down through the Ages Love always Remains Love always Remains Love enfolded the Moon and Stars Love enfolded the Darkened Night Love encompassed the Infinite Universe Love encompassed the Eternal Spirit of Life Down through the Ages Love is Always Sustained Down through the Ages Love always Remains Love always Remains Love always Remains Love always Remains ~
The Ever Loving Heart
through the Heart We see the Light of Love through the Heart We shine the Light of Love through the Heart the Ever Loving Heart through the Heart the Ever Loving Heart through the Heart We perceive the Beauty of Love through the Heart We become the Beauty of Love through the Heart the Ever Loving Heart through the Heart the Ever Loving Heart through the Heart We receive the Care of Love through the Heart We share the Care of Love through the Heart the Ever Loving Heart through the Heart the Ever Loving Heart through the Heart We know the Truth of Love through the Heart We speak the Truth of Love through the Heart the Ever Loving Heart through the Heart the Ever Loving Heart through the Heart We hear the Song of Love through the Heart We sing the Song of Love through the Heart the Ever Loving Heart through the Heart the Ever Loving Heart through the Heart We conceive the Purpose of Love through the Heart We fulfill the Purpose of Love through the Heart the Ever Loving Heart through the Heart the Ever Loving Heart through the Heart We embody the Courage of Love through the Heart We inspire the Courage of Love through the Heart the Ever Loving Heart through the Heart the Ever Loving Heart through the Heart We enfold the Harmony of Love through the Heart We enlarge the Harmony of Love through the Heart the Ever Loving Heart through the Heart the Ever Loving Heart through the Heart We feel the Joy of Love through the Heart We express the Joy of Love through the Heart the Ever Loving Heart through the Heart the Ever Loving Heart through the Heart We seek the Communion of Love through the Heart We find the Communion of Love through the Heart the Ever Loving Heart through the Heart the Ever Loving Heart through the Heart We hold the Source of Love through the Heart We reveal the Source of Love through the Heart the Ever Loving Heart through the Heart the Ever Loving Heart through the Heart We comprehend the Whole Creation of Love through the Heart We sustain the Whole Creation of Love through the Heart the Ever Loving Heart through the Heart the Ever Loving Heart the Ever Loving Heart the Ever Loving Heart the Ever Loving Heart ~
In Harmony with the Heart
We live in Harmony with the Heart Love is our Guiding Light We live in Harmony with the Heart Love is our Beacon in the Night in Harmony with the Heart in Harmony with the Heart We live in Harmony with the Heart Love is the Living Seed we Sow We live in Harmony with the Heart Love is the Beautiful Flower we Grow in Harmony with the Heart in Harmony with the Heart We live in Harmony with the Heart Love is the Home of our Family We live in Harmony with the Heart Love is the Place of our Security in Harmony with the Heart in Harmony with the Heart We live in Harmony with the Heart Love is our True Purpose and Meaning We live in Harmony with the Heart Love is our True Consciousness and Being in Harmony with the Heart in Harmony with the Heart We live in Harmony with the Heart Love is the Relief of our Suffering We live in Harmony with the Heart Love is the Source of our Care and Healing in Harmony with the Heart in Harmony with the Heart We live in Harmony with the Heart Love is our Sustenance and Strength We live in Harmony with the Heart Love is our Courage and Fidelity in Harmony with the Heart in Harmony with the Heart We live in Harmony with the Heart Love is our Contentment and Peace We live in Harmony with the Heart Love is the Joy that sets us Free in Harmony with the Heart in Harmony with the Heart We live in Harmony with the Heart Love is our Wealth and Prosperity We live in Harmony with the Heart Love is our Gift to Posterity in Harmony with the Heart in Harmony with the Heart We live in Harmony with the Heart Love is the Knowlege we Teach We live in Harmony with the Heart Love is the Wisdom we Receive in Harmony with the Heart in Harmony with the Heart We live in Harmony with the Heart Love is our Total Relation to Everything We live in Harmony with the Heart Love is our Total Unity in Diversity in Harmony with the Heart in Harmony with the Heart We live in Harmony with the Heart Love is our Dream and Aspiration We live in Harmony with the Heart Love is our Hope for Future Generations in Harmony with the Heart in Harmony with the Heart We live in Harmony with the Heart Love is Universal and Infinite We live in Harmony with the Heart Love is Eternal and Transcendent in Harmony with the Heart in Harmony with the Heart Love is Life Life is Love Love is Life Life is Love in Harmony with the Heart in Harmony with the Heart in Harmony with the Heart in Harmony with the Heart ~
From Our Heart We Live
from our Heart We receive the Impulse of Life from our Heart We share the Impulse of Life from our Heart We Live from our Heart We Live from our Heart We receive the Sustenance of Life from our Heart We share the Sustenance of Life from our Heart We Live from our Heart We Live from our Heart we receive the Love of Life fro our Heart We share the Love of Life from our Heart We Live from our Heart We Live from our Heart We receive the Truth of Life from our Heart We share the Truth of Life from our Heart We Live from our Heart We Live from our Heart We receive the Beauty of Life from our Heart We share the Beauty of Life from our Heart We Live from our Heart We Live from our Heart We receive the Strength of Life from our Heart We share the Strength of Life from our Heart We Live from our Heart We Live from our Heart We receive the Harmony of life from our Heart We share the Harmony of Life from our Heart We Live from our Heart We Live from our Heart We receive the Joy of Life from our Heart We share the Joy of Life from our Heart We Live from our Heart We Live the Heart holds the Eternal Living Spirit the Heart enfolds the Eternal Livng Spirit from our Heart We Live from our Heart We Live from our Heart We Live from our Heart We Live ~
In Relation to the Great Divinity
may we be truly worthy of the life we receive may we accept the gift of life with grateful humility in Relation to the Great Divinity in Relation to the Great Divinity may we be truly worthy of the sustenance we receive may we accept the gift of sustenance with grateful humility in Relation to the Great Divinity in Relation to the Great Divinity may we be truly worthy of the love we receive may we accept the gift of love with grateful humility in Relation to the Great Divinity in Relation to the Great Divinity may we be truly worthy of the wisdom we receive may we accept the gift of wisdom with grateful humility in Relation to the Great Divinity in Relation to the Great Divinity may we be truly worthy of the beauty we perceive may we accept the gift of beauty with grateful humility in Relation to the Great Divinity in Relation to the Great Divinity may we be truly worthy of the creations we conceive may we accept the gift of creation with grateful humility in Relation to the Great Divinity in Relation to the Great Divinity may we be worthy always be worthy may we be worthy always be worthy in Relation to the Great Divinity in Relation to the Great Divinity in Relation to the Great Divinity in Relation to the Great Divinity ~
In Reverence to the Great Spirit of Life
every breath we breathe we breathe consciously every breath we breathe we breathe thankfully in Reverence to the Great Gift of Life in Reverence to the Great Spirit of Life every sight we see we see consciously every sight we see we see thankfully in Reverence to the Great Gift of Life in Reverence to the Great Spirit of Life every sound we hear we hear consciously every sound we hear we hear thankfully in Reverence to the Great Gift of Life in Reverence to the Great Spirit of Life every fragrance we smell we smell consciously every fragrance we smell we smell thankfully in Reverence to the Great Gift of Life in Reverence to the Great Spirit of Life every sensation we feel we feel consciously every sensation we feel we feel thankfully in Reverence to the Great Gift of Life in Reverence to the Great Spirit of Life every step we take we take consciously every step we take we take thankfully in Reverence to the Great Gift of Life in Reverence to the Great Spirit of Life everything we do we do consciously everything we do we do thankfully in Reverence to the Great Gift of Life in Reverence to the Great Spirit of Life everything we give we give consciously everything we give we give thankfully in Reverence to the Great Gift of Life in Reverence to the Great Spirit of Life everything we receive we receive consciously everything we receive we receive thankfully in Reverence to the Great Gift of Life in Reverence to the Great Spirit of Life every moment we live we live consciously every moment we live we live thankfully in Reverence to the Great Gift of Life in Reverence to the Great Spirit of Life Living always Consciously Living always Thankfully in Reverence to the Great Gift of Life in Reverence to the Great Spirit of Life in Reverence to the Great Spirit of Life in Reverence to the Great Spirit of Life ~
In Relation to the Wholly Sacred One
We will return to the Sacred Earth We will return to our Heart's True Love We will return to the Sacred Earth We will return to the Wholly Sacred One and Love will save the Sacred Earth Love will save Us in Relation to the Wholly Sacred One in Relation to the Wholly Sacred One We will return to the Sacred Tree We will return to our Heart's True Love We will return to the Sacred Tree We will return to the Wholly Sacred One and Love will save the Sacred Tree Love will save Us in Relation to the Wholly Sacred One in Relation to the Wholly Sacred One We will return to the Sacred River We will return to our Heart's True Love We will return to the Sacred River We will return to the Wholly Sacred One and Love will save the Sacred River Love will save Us in Relation to the Wholly Sacred One in Relation to the Wholly Sacred One We will return to the Sacred Mounatin We will return to our Heart's True Love We will return to the Sacred Mountain We will return to the Wholly Sacred One and Love will save the Sacred Mountain Love will save Us in Relation to the Wholly Sacred One in Relation to the Wholly Sacred One We will return to the Sacred Spirit We will return to our Heart's True Love We will return to the Sacred Spirit We will return to the Wholly Sacred One and Love will save the Sacred Spirit Love will save Us in Relation to the Wholly Sacred One in Relation to the Wholly Sacred One Love will save Us Love will save Us in Relation to the Wholly Sacred One in Relation to the Wholly Sacred One in Relation to the Wholly Sacred One in Relation to the Wholly Sacred One ~
The Sacred Circle of Life
We are returning to the Sacred Circle We are returning to the Sacred Source of Life We are returning to the Sacred Circle We are returning to the Sacred Conception of Life Everything is Sacred within the Sacred Circle Everything is Sacred within the Sacred Circle We are returning to the Sacred Circle We are returning to the Sacred Form of Life We are returning to the Sacred Circle We are returning to the Sacred Substance of Life Everything is Sacred within the Sacred Circle Everything is Sacred within the Sacred Circle We are returning to the Sacred Circle We are returning to the Sacred Ways of Life We are returning to the Sacred Circle We are returning to the Sacred Days of Life Everything is Sacred within the Sacred Circle Everything is Sacred within the Sacred Circle We are returning to the Sacred Circle We are returning to the Sacred Vision of Life We are returning to the Sacred Circle We are returning to the Sacred Consciousness of Life Everything is Sacred within the Sacred Circle Everything is Sacred within the Sacred Circle We are returning to the Sacred Circle We are returning to the Sacred Heart of Life We are returning to the Sacred Circle We are returning to the Sacred Love of Life Everything is Sacred within the Sacred Circle Everything is Sacred within the Sacred Circle We are returning to the Sacred Circle We are returning to the Sacred Purpose of Life We are returning to the Sacred Circle We are returning to the Sacred Value of Life Everything is Sacred within the Sacred Circle Everything is Sacred within the Sacred Circle We are returning to the Sacred Circle We are returning to the Sacred Relations of Life We are returning to the Sacred Circle We are returning to the Sacred Harmony of Life Everything is Sacred within the Sacred Circle Everything is Sacred within the Sacred Circle We are returning to the Sacred Circle We are returning to the Whole Sacred Creation of Life We are returning to the Sacred We are returning to the Whole Sacred Spirit of Life Everything is Sacred within the Sacred Circle Everything is Sacred within the Sacred Circle the Sacred Circle of Life the Sacred Circle of Life the Sacred Circle of Life the Sacred Circle of Life ~
The Sacred Tree of Life
We come together Now beneath the Sacred Living Tree We awaken to the Creation of Earth and Sun and the Sacred Living Seed the Tree holds our Spirit the Tree holds our Life We arise from the Sacred Tree of Life We grow from the Sacred Tree of Life We come together Now beneath the Sacred Tree We relate our Lives to Every Being and to Every Living Thing the Tree holds our Spirit the Tree holds our Life We arise from the Sacred Tree of Life We grow from the Sacred Tree of Life We come together Now beneath the Sacred Living Tree We open our Hearts to Love and Peace in Sacred Harmony the Tree holds our Spirit the Tree holds our Life We arise from the Sacred Tree of Life We grow from the Sacred Tree of Life We come together Now beneath the Sacred Living Tree We consciously perceive the Whole Living World in a Sacred Totality the Tree holds our Spirit the Tree holds our Life We arise from the Sacred Tree of Life We grow from the Sacred Tree of Life We come together Now beneath the Sacred Living Tree We dedicate our Lives to Future Generations and the Sacred Divinity the Tree holds our Spirit the Tree holds our Life We arise from the Sacred Tree of Life We grow from the Sacred Tree of Life forever and ever forever and ever We arise from the Sacred Tree of Life We grow from the Sacred Tree of Life the Sacred Tree of Life the Sacred Tree of Life the Sacred Tree of Life the Sacred Tree of Life ~
The Seasons of Life
the seasons turn through the days of time the seasons turn through the days of our lives now is the time of winter now is the time to be quiet and still now is the time to be humble and grateful for all our great living gifts the seasons turn through the days of time the seasons turn through the days of our lives now is the time of winter now is the time of forgiveness and healing now is the time to restore our true inner strength and renew our heart's true loving feeling the seasons turn through the days of time the seasons turn through the days of our lives now is the time of winter now is the time of the dormant seed now is the time to patiently wait and prepare for the coming spring the seasons turn through the days of time the seasons turn through the days of our lives now is the time of winter now is the time to be quiet and still now is the time to be humble and receptive to the Great Spirit's Will the seasons turn through the cycles of time the seasons turn through the cycles of our lives and we follow the seasons the seasons of life we follow the seasons the seasons of life turning forever turning turning forever turning the seasons of life the seasons of life the seasons of life the seasons of life ~
One with Life
We are Part of the Earth We are Part of Creation the Tree grows in our Body We are Totally Life Related We are One with the Earth We are One with Life We are One with the Earth We are One with Life We are Part of the Earth We are Part of Creation the Wind blows in our Breath We are Totally Life Related We are One with the Earth We are one with Life We are One with the Earth We are One with Life We are Part of the Earth We are Part of Creation the River flows in our Blood We are Totally Life Related We are One with the Earth We are One with Life We are One with the Earth We are One with Life We are Part of the Earth We are Part of Creation the Fire burns in our Heart We are Totally Life Related We are One with the Earth We are One with Life We are one with the Earth We are One with Life We are Part of the Earth We are a Part of Creation the Eagle uplifts our Spirit We are Totally Life Related We are One with the Earth We are One with Life We are one with the Earth We are One with Life One with Life One with Life One with Life One with Life ~
The Great Song of Life
Our Song holds the Shining Sun Our Song holds the Shining Light Our Song holds the Shining Stars Our Song holds the Darkness of Night and We Sing We sing together Now and Together We Arise We Sing We sing together Now the Great Song of Life the Great Song of Life Our Song holds the Fertile Earth Our Song holds the Living Seed Our song holds Every Living Being Our Song holds Every Living Thing and We Sing We sing together Now and Together We Arise We Sing We sing together Now the Great Song of Life the Great Song of Life Our Song holds the Clear Flowing River Our Song holds the Endless Living Stream Our Song holds the Deep Enfolding Ocean Our Song holds the Infinite Living Sea and We Sing We sing together Now and Together We Arise We Sing We sing together Now the Great Song of Life the Great Song of Life Our Song holds the Mountain and the Sky Our Song holds the Desert and the Plain Our Song holds the Wind and the Cloud Our Song holds the Fire and the Flame and We Sing We sing together Now and Together We Arise We Sing We sing together Now the Great Song of Life the Great Song of Life Our Song holds All Sorrow and Suffering Our Song holds All Joy and Healing Our Song holds Every Human Emotion Our Song holds Every Human Feeling and We Sing We sing together Now and Together We Arise We Sing We sing together Now the Great Song of Life the Great Song of Life Our Song holds All Living Dreams Our Song holds All Living Aspiration Our Song holds Total Living Freedom Our Song holds Total Liberation and We Sing We sing together Now and Together We Arise We Sing We sing together Now the Great Song of Life the Great Song of Life Our Song holds Every Different Language Our Song holds Every Different Word Our Song holds Every Culture and Custom Our Song holds Every Value and Worth and We Sing We sing together Now and Together We Arise We Sing We sing together Now the Great Song of Life the Great Song of Life Our Song holds Every Belief Our Song holds Every Philosophy Our Song holds Every Religion Our Song holds Every Divinity and We Sing We sing together Now and Together We Arise We Sing We sing together Now the Great Song of Life the Great Song of Life Our Song holds All the Turning Seasons Our Song holds All the Cycles of Time Our Song holds All the Evolving Consciousness Our Song holds All the Changing States of Mind and We Sing We sing together Now and Together We Arise We Sing We sing together Now the Great Song of Life the Great Song of Life Our Song holds Every Human Heart Our Song holds All Human Relations Our Song holds the Universal Bond of Love Our Song holds the Whole Spirit of Creation and We Sing We sing together Now and Together We Arise We Sing We sing together Now the Great Song of Life the Great Song of Life Encompassing the Whole World Encompassing the Whole World the Great Song of Life the Great Song of Life the Great Song of Life the Great Song of Life